1993 Goldwing Aspencade GL1500cc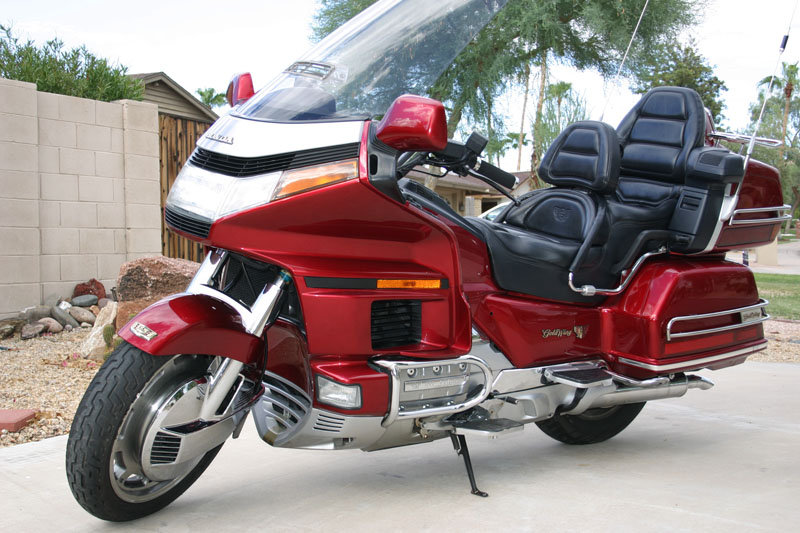 About this Rare Find
A '93 Goldwing in Showroom Condition.
This is a beautiful, low mileage (only 20K), showroom condition Goldwing Aspencade that has been kept in perfect condition.
This two owner motorcycle has been meticulously cared for and runs like a top.
Previous owner was Shriner who rode this bike in parades, charity events and other functions.

Every system is in perfect working condition, this includes:
All suspension
- Front Shocks
- Rear Air Shocks and On-Board Compressor
- Brakes - Single and Linked
- Reverse System

Electronics
- LCD Dashboard Display & All Gauges
- Stereo - External Speakers, Headsets
- Audio Connector for IPod, XM or MP3 players
- CB Radio - External Speakers, Headsets
- Front/Rear Stereo Fader
- 200 Watt Stereo Amplifier
- Headset Intercom
- Rear Passenger Volume Control & CB Transmit Button
- Cruise Control
- Lower Driving Lights
- LED Brake Lights
- More...


Extras
- Driver Backrest
- Passenger Storage Pocket
- Driver Floorboards
- Driver Heel-Toe Shifter
- Passenger Floorboards
- Trunk and Saddlebag Carpets
- Tulsa Tall Windshield
- Handlebar Grips
- Chrome Trunk and Saddle Bag Rails
- Chrome Trunk Luggage Rack


There is a single small hole in the lower left cover, about the size of a .38 bullet hole.

Things needed:
Tires - These are three years old and it's time for new ones. That's it.

Warning: I can almost guarantee the first buyer to see and test ride this bike will buy it.